Oxford Acreditamos que a educação muda a vida das pessoas para melhor
A Oxford University Press é um departamento da Universidade de Oxford. Ela dá suporte aos objetivos da universidade de excelência em pesquisa, educação e difusão do conhecimento por meio de suas publicações em todo o mundo. Os materiais da Oxford, incluindo as soluções para o ensino e aprendizagem de inglês, passam por um rigoroso processo de desenvolvimento e são submetidos a um rígido controle de qualidade e aprovação pela Universidade de Oxford. Por mais de 500 anos, a Oxford University Press vem demonstrando seu compromisso com a promoção da educação em todo o mundo através da qualidade de seus programas de pesquisa e publicações.

A Oxford University Press é líder global no segmento de publicação de materiais de ensino de língua inglesa (ELT). Considerada no mundo todo como a "Casa da língua inglesa" pelos seus famosos dicionários, a Oxford University Press publica materiais para o ensino e a aprendizagem de inglês para todas as idades e níveis de conhecimento.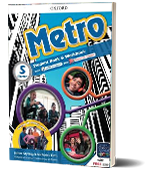 Metro Starter
An exciting new secondary course that reflects the lives of teenagers today and takes students on the next step of their learning journey to become confident, independent learners. Created to reflect the lives of teenagers today, the course not onlycovers quirky and engaging topics that will spark students´ interest, it also takes into account the ways in which today´s teens learn about the world around them, from watching YouTube videos to messaging their friends.