Richmond Teaching togethern growing.
EXPERTISE GLOBAL COM RESPEITO À REALIDADE LOCAL
Em 1992, nasceu a Richmond, editorial destinado a transformar o aprendizado em uma experiência motivadora, através da oferta de materiais eficientes para o ensino da língua inglesa. Com liderança consolidada no mercado brasileiro, nosso selo também é garantia de assessoria pedagógica permanente, visando atender a todas as especificidades da realidade educacional brasileira.
Com um time de editores experientes trabalhando de forma colaborativa em nossos escritórios do Brasil, Inglaterra, Espanha e México, desenvolvemos publicações com padrão de qualidade internacional, pensadas e desenvolvidas para atender às necessidades locais.
As obras contemplam as particularidades do ensino de inglês para brasileiros e por brasileiros, além de serem pensadas de maneira que possibilitem a flexibilidade de atender a diferentes cargas horárias e que acolham diversas realidades, ao abarcar a pluralidade de temas e conteúdos.
The Big Picture
"The Big Picture" reflects the key issues in the world today which are immediately relevant to the learners? worlds and experiences with striking real world images. These images provide a fresh, contemporary look and are at the centre of tasks, encouraging learners to work with and interpret them.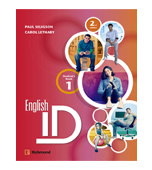 English ID British
Welcome to the English ID Learning Platform. This amazing blended learning tool has been developed in parallel with the series and combines the best of formal and informal learning to extend, revise and test core lessons' content. The full range of resources is available to teachers and students who adopt any of the English ID levels.